Website Design
Responsive Web Design and Digital Asset Creation
A cornerstone of a good marketing campaign is a great web site. Website design is sort of like carpentry—everybody has a hammer and a saw, but that doesn't mean they can build a house. Everybody has a computer, and maybe their kid designed a blog site, but that doesn't mean they know how to design an efficient, eye-catching web site that not only imparts information to potential buyers, it also ATTRACTS buyers through search engine optimization (SEO).
More and more, people are getting their news and information from websites. Your website can possibly be more important than your business address and phone number. It will be listed on your contact information on all your advertising, and believe it, people will log on to your site. Think about your web site. Is it easy to navigate? Is there plenty of information about your products and services? Is the design eye-catching? What about the photography—are your photos outdated, blurry snapshots or stunning professional images? Most importantly, can your site be found by the major search engines? If so, where do you rank?
Fast and affordable small business website design We've partnered with some of the best web designers in the business. Their credentials are impressive, and our response time is rapid. Instead of waiting several tedious months for a site to be up and running, we can turn a project around in a matter of a couple of weeks. Best of all, our rates are reasonable!
Internet marketing consultants We've done extensive research on website design and search engine optimization. A great website can be the backbone of your marketing plans. Radio ads are great, but short. The voice-over should include your web address. Newspaper ads are eye-catching but brief. Your web address will be included with your address and phone number. Magazine ads are beautiful but you can only say so much on one page. Interested buyers will log onto your web site.
An introduction to new customers A good website is both a static and flexible document. Imagine a book that you've published and sold to thousands of readers, where you can magically delete and insert new pages at your whim. A good web site has a solid foundation of company information, pleasing design, and a list of products and services. It's also flexible. Do you have a new product to introduce to your market? Put it on the website before you begin your other marketing strategies. Do your customers know who you are? Post a biography of yourself and your individual team members, listing your accomplishments, awards, and experience.
Better search engine placement One of the main requests that we hear over and over again is to help a client improve search engine placement. A well-written website is one of the keys to success. Our extensive research—and our own results—suggest that sites with the most traffic are the ones with the best written text. A well-planned program of concise writing, unique inbound links, directory links, and informative articles related to your business, such as solving common problems or new technologies, will result in higher search engine placement.
Let us get to work on building your new web site!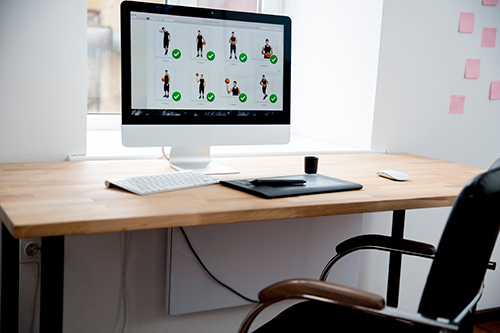 Our Website Goals
Design or redesign your website
Increase your business inquiries
Make your information easily accessible
Improve your professional image
Provide a great online user experience
Make your website mobile-friendly
Let you focus on your business
Market your website on search engines
---
How We Can Help
Custom WordPress Websites
The WordPress CMS platform is feature rich for you with easy-to-use plugins and backend editing capabilities.
Mobile / Responsive Web Design
You build a website once, and it works seamlessly across thousands of different screens.
Web Maintenance
The content on your website is getting older everyday. We take care of the details so you and your staff can get back to running your business!